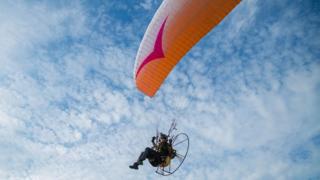 The woman flying with swans
Have you ever wanted to fly like an eagle... or maybe even a swan?
Well one animal expert is doing just that. Sacha Dench is flying next to swans using a paramotor, which is a bird-like parachute powered by a small propeller engine!
But why is she doing it? Well, it's all because she's trying to discover why the number of Bewick swans is falling.
So for the next 10 weeks Sacha will fly the same route the birds take, setting off from Russia and passing through 11 countries before finally ending up in south-west England.
Take a look at her in the air!