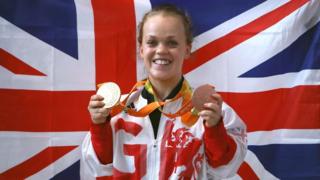 PA
Five time Paralympic gold medallist Ellie Simmonds is joining us for a chat and we asked you to send in any questions you have for her.
Ellie is a British Paralympian swimmer who competes in S6 events, so far she has won a total of eight medals across three Paralympic games.
She competed in her first Paralympic games in Beijing 2008 when she was only 13 years old!
We asked what would you like to know from Ellie.
Your comments
How old were you when you started swimming?
Olivia, Leicestershire
When did you first start training for your first Paralympics?
Amy, Bedford
I want to be an Olympic Swimmer one day, do you have a special training diet and how many hours do you train?
Isabelle, Sussex
What made you go into swimming?
Ellie
Who got you into swimming?
Finn, Buckinghamshire
What inspired your career in swimming?
Alisha, Leicestershire
I admire you, how do you go so fast at the end of a race?
Phoebe, Newbury