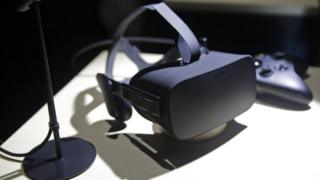 AP
The Oculus Rift is finally available to buy from high street stores and online in the UK, six months after it was released in the US.
It's a virtual reality headset which when worn will allow gamers to experience a virtual gaming world.
It won't be cheap though, it's being sold for £549 and you'll need a very powerful computer to even be able to use it.
Similar products on the market include HTC's Vive VR headset which was launched earlier this year and Sony will be releasing it's own virtual reality headset called the PlayStation VR in October.
Earlier this year Ricky got to try out the Oculus Rift and some of it's accessories.