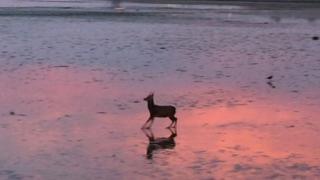 Oh Deer, you spotted me
This deer was spotted at Poole Harbour by Dave Mott who was walking his dog along the shore at dawn.
It's thought to be a Japanese Sika deer that may have swum over from Brownsea Island where there's a resident population.
The Sika is a species of deer native to much of East Asia and was introduced into Britain in 1860. They can be spotted throughout the day but are most often seen when it's dark as they are very shy animals.
Brownsea Island is home to a very large number of Sika Deer and it's the largest of the islands in Poole Harbour which is in the county of Dorset.