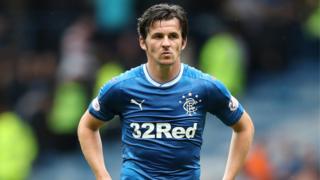 Getty Images
Rangers have suspended midfielder Joey Barton for three weeks, following an argument with a team mate.
Barton was sent home from training after the argument with his teammate Andy Halliday.
The footballer admitted that he had said some "inappropriate things" to Halliday after they were beaten 5-1 by rival team, Celtic.
He said that he was sorry for what he said, be he thinks his suspension is wrong.
The club said that both players need "time and space".