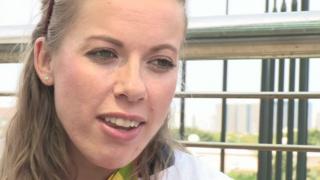 'I'm not unbeatable, I'm just unbeaten'
Wheelchair racer, Hannah Cockroft, is one of Team GB's biggest Paralympic stars and is bringing home three gold medals from Rio.
But she says that the new talent challenging her at Rio is proof that she's not unbeatable, despite her incredible success.
Hannah won two gold medals at the 2012 Paralympics in London, and is nicknamed 'Hurricane Hannah'.
Martin caught up with her before the 2016 Paralympics closing ceremony.