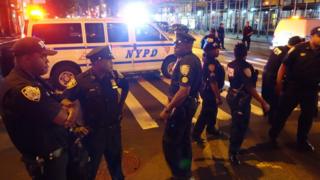 Getty Images
A man has been arrested following an explosion in New York City which injured 29 people on Saturday night.
Nobody died from the blast, which was caused by a small homemade bomb.
It was one of several attempted attacks in New York and New Jersey, which authorities think may have been linked.
Ahmad Khan Rahami was arrested on suspicion of planting the bombs, and injuring police when they tried to arrest him.
He is a US citizen, but was born in Afghanistan.
The attacks have led to disagreement between America's two presidential candidates, Hilary Clinton and Donald Trump, about the best way to keep America safe.
Trump argues that the risk of attacks like these have been increased because of a lack of controls on immigration to America. Immigration is when people come to a country they weren't born in, to live and work.
His rival, Hilary Clinton says that the government must support the police and authorities protecting people, and that communities should unite to face threats together.