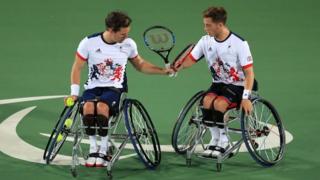 'It's strange to go from teammates to enemies'
Gordon Reid beat his Para GB teammate Alfie Hewett 6-2, 6-1 in less than an hour at the mens' wheelchair tennis singles match on Friday.
But there's no hard feelings for the pair who had just won silver in the doubles final together the previous evening.
Alfie said after the singles match: "I hate losing but he's a top tennis player and a top bloke and I've loved every minute of playing in the doubles with him."
On Saturday the pair, with four medals between them, joined Martin for a chat.
Here's what they had to say.