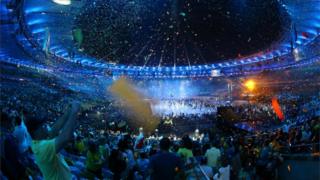 Allsport/getty
The 2016 Rio Paralympics has finished and it's been a huge success for Para GB.
The team have smashed the target set at the London 2012 Paralympics, winning more than 50 gold medals.
Superstar sprinter Jonnie Peacock defended his title and won gold in the T44 100m sprint.
Dame Sarah Storey become the most decorated female Paralympian of all time on her bike.
And legendary swimmer Ellie Simmonds, went head-to-head with new-swimmer-on-the-block, 15-year-old Ellie Robinson.
But, we want to know what your favourite bit of the Paralympics has been!
THIS CHAT PAGE IS NOW CLOSED.
Your comments
My favourite part of the Paralympic Games so far is the start because it made me cheerful and buzzing.
Craig, Edinbrugh
I loved it when Kadeena Cox won her medals in two events.
Akshita, 10, Milton Keynes