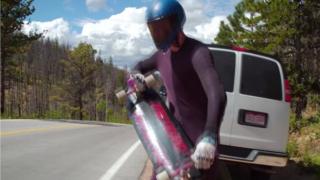 The fastest skateboarder ever!
Kyle Wester has become the fastest skateboarder in the world.
The American skater clocked a speed of 89.41 mph when he raced downhill at a top secret location in Colorado, in America.
That's faster than a cheetah!
Kyle wore only a special speed suit and a helmet to help protect him, and had to keep really, really still.
He smashed the previous world record of 81.17 mph, and says that one day he hopes to reach 100mph.
Take a look at his speedy record here, but err maybe leave this one to the professionals eh?!
Pictures courtesy of Santa Cruz Skateboards