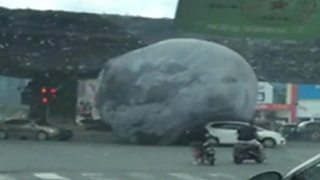 Giant moon balloon on the loose in China
A giant moon balloon was caught on camera making a break for it in Fuzhou, in China.
The balloon was part of a big inflatable display outside a shopping centre, to celebrate the Mid-Autumn lunar festival.
However, the moon balloon was hit by some very strong winds, and the strings tying it to the ground, snapped.
The giant balloon then made a dramatic bid for freedom, bouncing down a busy road.
Thankfully, no one was hurt, but many people were quite confused by the incident!
It seems like moon balloons aren't having much luck this year, take a look at what happened when we went to visit one in Bristol...