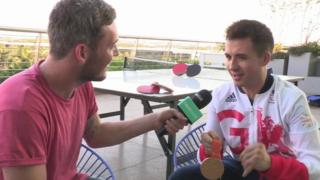 'To try and win in Rio, that was my dream'
Will Bayley has won a gold medal in the men's class 7 table tennis final in the Rio Paralympics.
He beat Brazilian Israel Pereira Stroh 3-1 and celebrating by jumping up on the table.
"When I won it was like an eruption of emotions and I just jumped on the table and I didn't know what to do really. I could of done anything but that seemed to be the obvious thing in my head, to jump on the table," said Will.
Martin caught up with Will in Rio and talked about the moment he won gold, his experience in Rio and why table tennis is a fun sport to play.