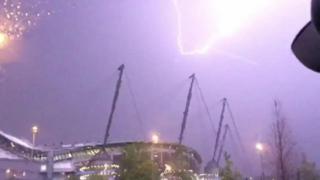 Hot weather turns to storms in some areas
It might have been the hottest September day in Kent yesterday but in some parts of the UK, the hot weather turned to storms.
In western and northern parts of England, there was flooding and thunder and lightning.
It caused chaos on the motorways and for people travelling on public transport.
Some businesses were flooded and Manchester City's Champions League match against Borussia Monchengladbach was cancelled.