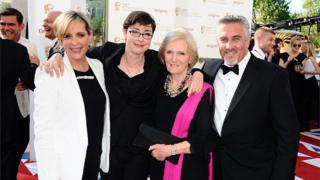 PA
Bake Off presenters Mel and Sue have said they will not be presenting the series anymore, when it moves to Channel 4.
It was announced that the Great British Bake Off series would be moving to Channel 4, after the BBC lost the contract with the company who make the hit programme.
Mel and Sue have been the main presenters for all seven series of the popular baking show, since it started in 2010.
They said: "We were very shocked and saddened to learn yesterday evening that Bake Off will be moving from its home. We made no secret of our desire for the show to remain where it was."
Love Productions who make the Bake Off series have said: "We would like to thank Mel and Sue for bringing their own unique humour to the tent over the past years and we respect their decision not to be part of the Bake Off team on Channel 4."
We asked you who should replace Mel and Sue as the new presenter or presenters. Here's a selection of your comments.
It will never be the same Again!!!!!!
Danny, 17, Gravesend
No one can replace them! I watched every episode last year, and they made the whole thing funny!!!
Arshiya, 9
I will miss Mel and Sue!!! I love it when they "try" someone's bakes and how they help them is hilarious! No-one could replace them.
Hussam, 13, Saudi Arabia
No it will not because they are super funny.
Mackenzie, 8, Edinburgh
No it won't be the same without Mel and Sue no one could ever replace them!!!
Milly, 11, Plymouth
Thank you for your comments. The chat page is now closed.