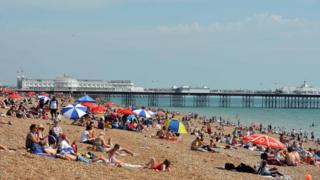 AFP Wires
The summer might be over but yesterday became the hottest September day for over 100 years, when Gravesend, Kent, recorded a temperature of 34.4C
The forecast for temperatures across the UK and particularly in the East, South East of England and the East Midlands could be particularly high again today.
We asked you how you are staying cool.
I beat the heat by drinking lots of cold water and eating ice cream!
Akshita, 10, Milton Keynes
This chat page is now closed.