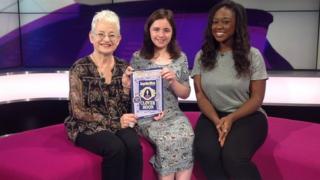 'I'm amazed I'm sitting next to Jacqueline Wilson'
A schoolgirl has beaten thousands of children to get her short story written in Jacqueline Wilson's new book.
Emily, who is 11, submitted her short story called The Last Sign to the Jacqueline Wilson Creative Writing Prize, with the author herself picking the winner.
The story reads like it's about an older lady reminiscing about her past before she dies, but the twist at the end is that she is actually a chimpanzee.
The Last Sign will now feature in Jacqueline's new book, which is called Clover Moon.
Jacqueline said: "It was very tough to select just one winner but Emily's story stood out because of its use of language and originality".
Newsround brought Emily and Jacqueline Wilson into the Newsround studio, where they met for the first time and talked about Emily's story.
The competition was open to 7-12 year olds, and they could write about anything they liked, between 750 and 1000 words.