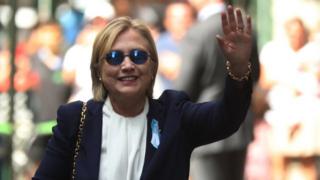 Hillary Clinton ill with pneumonia
US Democratic presidential candidate Hillary Clinton has been treated for pneumonia, after becoming ill during a ceremony in New York on Sunday.
In a video she appeared to faint at an event to mark the 15th anniversary of the 9/11 terrorist attacks on New York.
Her doctor says she has pneumonia and her plans for this week have been cancelled to allow her to recover.
Ricky has been finding out more about what this means...