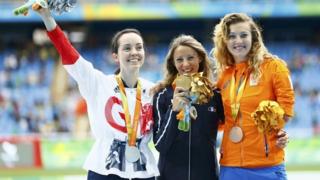 Stef Reid on life with prosthetic leg
Paralympics GB athlete, Stef Reid, uses a prosthetic leg after she injured her right leg in a boating accident.
Martin caught up with her in Rio, where she told him about the four different types of prosthetic legs she uses:
- She has an everyday leg for day to day life.
- A competition jump leg, which can only be used for running in a straight line and taking off to jump.
- A sport leg which allows her to run and change direction quickly, if she is playing sports such as basketball and rugby.
- And a three inch high heel leg, which has a covering on that looks like skin, for when Stef wants to wear heels.