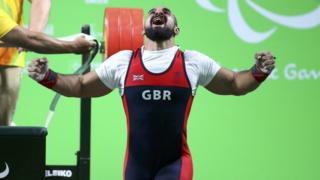 Ali Jawad: 'I wanted to be like the Hulk'
Ali Jawad won a silver in the men's 59kg powerlifting at the Paralympic Games in Rio on Friday.
The 27-year-old, who was born without legs, lifted 190kg with his first lift, but was beaten by Egypt's Sherif Osman.
Martin caught up with the Paralympian in Rio, who said he'd always wanted to be super-strong like the cartoon characters Popeye and the Incredible Hulk.