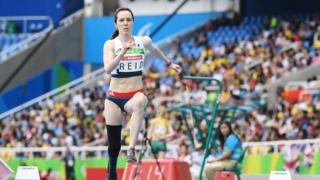 Stef Reid: Paralympians are 'amazing'
Stef Reid took Britain's first medal of the 2016 Paralympic Games, picking up silver in the T44 long jump.
Born in New Zealand to British parents, Stef grew up in Canada where she lost her right leg after a boating accident.
She took up running with a prosthetic leg at university and is now a three-time Paralympic medallist.
Martin met up with Stef in Rio, Brazil, to talk about her success.