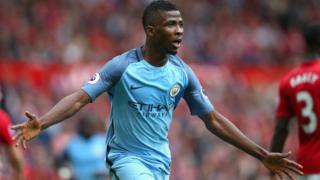 Getty Images
Manchester City kept up their unbeaten start to the season with a 2-1 win over rivals Manchester United on Saturday.
Goals from Kevin De Bruyne and Kelechi Iheanacho put City into a 2-0 lead, before Zlatan Ibrahimovic got one back for the hosts just before half time.
New Manchester City goalkeeper Claudio Bravo had a tough first game in goal though, dropping Wayne Rooney's free kick for Ibrahimovic's goal.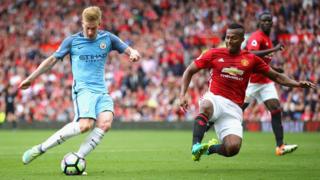 Getty Images
It was an important game not just for the players but also for managers Jose Mourinho and Pep Guardiola, who have a long-time rivalry.
But it was ex-Barcelona boss, Guardiola, who came out on top.
He said: "We are happy. I think the spectators enjoyed it because it was open until the end. First half we were better - in the second half it was difficult. We had counter-attacks and we didn't finish."
United manager Jose Mourinho said: "The two halves were completely different. In the first half we were below the level to play this match. You have to be completely ready in terms of the speed of your thinking and decision-making."
"The second half was completely different. We were a team that had the courage and honesty and dignity to chase with pride the result which I think we deserved - we deserved a goal in the second half."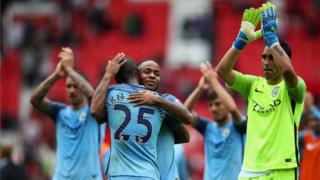 Getty Images
The result keeps City top of the league on 12 points after four games, while United remain in third place.