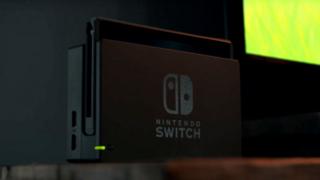 Nintendo
Tech company Nintendo has just revealed their brand new console - the Nintendo Switch.
The console had been announced as the Nintendo NX, but solid details were all kept top secret.
A three-minute video released on Thursday gives us all a good look at its new console and the kind of things it can do.
So what have we learned about the Switch from Nintendo's video?
The new Switch console works as both a home console and a handheld device that the player can use to play games away from their TV.
Switch's controllers are also interesting. The video shows traditional home controller, but also detachable ones that slide on to the side of the tablet-like handheld device. These can be used by two people to play a multiplayer game on the same screen.
The video also shows the player plugging in a small cartridge, suggesting Nintendo is moving back towards a cartridge-based systems, like the Nintendo DS or PlayStation Vita.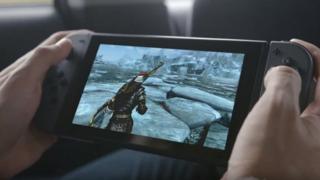 Nintendo
Nintendo has always been about playing with friends. This console certainly seems to want to make playing with other people easy, and in a way that doesn't just mean over an internet connection, which has become the normal thing for most game systems.
Although the graphics in the video look good, it is doubtful that the Switch will have the processing power or graphic specs that rivals Xbox and Playstation have.
Times have been tough for Nintendo. Its last console, the WiiU, didn't sell anywhere near as well as the original Wii did, and some say this is Nintendo's last chance to keep its place amongst the top consoles.
What are the Nintendo Switch's rivals?...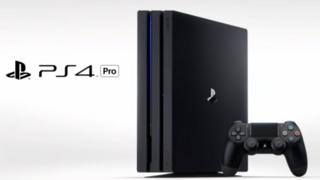 Sony
PS4 Pro
The console was unveiled at a big event in New York, in America, three years after the PS4 came out.
It will be released in November and will cost around £300.
Makers at Sony have said that the new console will be able to stream videos in 4K, which means that games will look better and will be higher quality.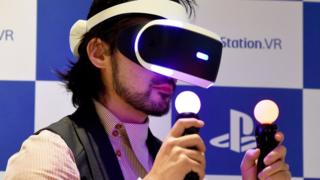 Getty Images
It will also support PlayStation VR, which means players will be able to play games on it using a virtual reality headset.
They also said it would have a faster processer, meaning that it can cope with the higher quality graphics, without glitching.
Players will be able to play PS4 games on the console.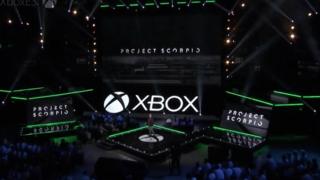 Microsoft
Xbox's Project Scorpio
Microsoft also has a huge new console under their belts, but it won't appear until late next year.
It's another top secret project, code-named Project Scorpio.
The head of Xbox games marketing Aaron Greenburg has said it will "change the way we think about the future of console gaming".
From what we know, the Xbox Scorpio will have similar features to the PS4 Pro.
It will be able to play games in super high quality 4K, and old Xbox games will still be compatible.
Makers have also strongly hinted that the console will be playable with a virtual reality headset.
Nothing has been announced about how much the console will cost, but experts have been suggesting it might cost around £500.