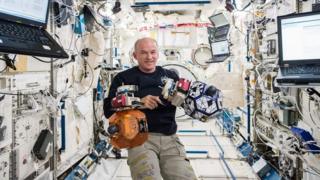 AFP/Getty/Nasa
Nasa astronaut Jeff Williams has become the most experienced American astronaut ever.
The awesome astronaut safely touched back down to Earth yesterday with two Russian cosmonauts Alexey Ovchinin and Oleg Skripochka, after living on board the International Space Station.
Jeff has spent a total of 534 days in space, meaning he now holds the record, for the most time living in space of all American astronauts.
This latest mission to the ISS is Jeff's fourth time in space, and his third long-duration stay on the space station.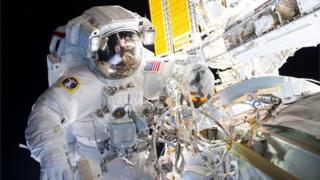 AFP/getty
He is a flight engineer and has been on four spacewalks since his first mission into space in 2000.
However, Jeff still has a long way to go to beat the world record holder Gennady Padalka.
The Russian cosmonaut has spent a whopping 879 days in space, that's nearly two and a half years!
Other top space records
The first animals in outer space were a group of fruit flies in 1947. They reached a height of 108km above the Earth, and survived the journey back to earth.
The astronauts who travelled the furthest from Earth were Jim Lovell, Fred Haise, Jack Swigert of the Apollo 13 crew in 1970. They passed over the far side of the moon, reaching a distance of 400,171km from the Earth.
The astronaut who has completed the most spacewalks is Russian cosmonaut Anatoly Solovyev. He has successfully completed 16 spacewalks.
The first woman to fly in space was Russian cosmonaut Valentina Tereshkova. She piloted the Vostok 6 spacecraft in 1963 and completed 48 orbits of the Earth on her three days in space. Before she became a cosmonaut, Tereshkova worked in a clothes factory and was an amateur skydiver!
British Astronaut Tim Peake became the first official British astronaut to live on board the International Space Station last year,

he broke lots of records

whilst he was there, including running the London marathon in space!