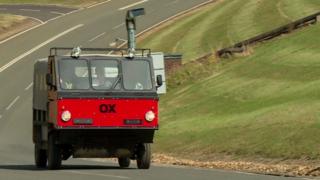 The flat-pack truck that folds away
Take a look at the amazing OX truck, which can fold away!
The OX was created by ex-Formula 1 racing car designer Gordon Murray.
He came up with the idea of a folding truck which flat-packs just like furniture, which could help reach people in hard-to-get-to areas of the world.
The car can be folded up and then re-made again in under 12 hours, and it can also cope with extreme heat and bumpy roads.
Gordon hopes his invention will help transform travel for thousands of people in developing countries.