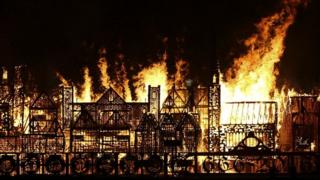 Festival remembers Great Fire of London
Crowds gathered on the banks of the River Thames in London to watch this 120-metre long model go up in flames.
It was part of a festival to commemorate the Great Fire of London, which happened 350 years ago.
In 17th Century London, buildings were made almost entirely of wooden structures and so when the fire took hold, it destroyed most of the city.
To find out everything you need to know about the Great Fire of London, check out our guide.