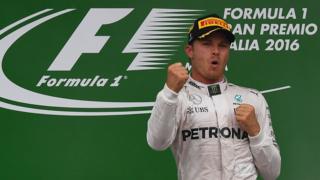 GABRIEL BOUYS
Nico Rosberg took advantage of Lewis Hamilton's poor start to claim victory at the Italian Grand Prix on Sunday.
The German cruised to the win after passing his team mate on the start line, with Hamilton dropping from pole position to sixth before the first corner.
Hamilton fought back to take second place but was too far behind Rosberg to challenge for the win.
The victory cuts Lewis' lead in the World Championship to just two points.