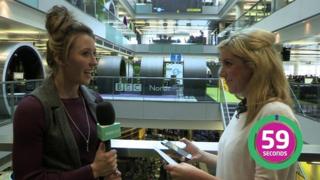 London or Rio? Newsround or Blue Peter?
Fresh from her Olympic taekwondo gold medal win in Rio, Team GB's Jade Jones came into Newsround HQ and faced a different challenge: Our Either/Or Quiz.
At the age of 23 Jade Jones has already competed in two Olympics, and won two gold medals!
Her gold in 2012 was Team GB's first ever in the sport.
Jenny caught up with Jade to test her quick-fire skills away from the Olympic stage.