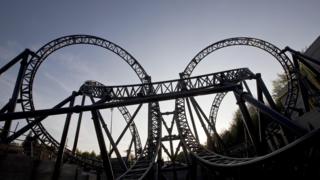 PA
Around 30 people had to be rescued from the Smiler rollercoaster at Alton Towers this lunchtime.
The ride was closed after officials got reports that bits had fallen from one of the carriages.
The Theme Park says people on the ride weren't in any danger and have been safely taken off.
The ride only re-opened in March after it was closed following the crash that injured five people in June 2015.
It is now closed again while an investigation into what happened takes place.
Accidents on rollercoasters are extremely rare - the chance of being injured whilst on a ride is one in 24 million.