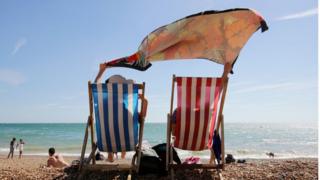 AP
It's drawing to the end of an action packed summer.
With lots of you back at school or going back soon, we want to know your summer highlights.
Perhaps it was an amazing holiday, unusual experience or summer project.
Or maybe you enjoyed one of the big sporting events this year like the Euros, Olympics or Wimbledon.
Get in touch to tell us what you got up to, and send a picture or a video of your adventures.

This chat is now closed, thanks for all your comments.
You must ask your parent, teacher or guardian for permission before you send us a comment and a photo.
We may show your comment on our website or in our TV bulletins. We'll show your first name and which town you're from - but we won't use your details for anything else.