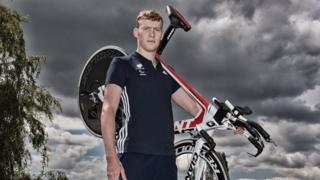 'No reason why you can't do anything' in life
Paratriathlon will make its Paralympic debut in Rio, with athletes being pushed to their limits in three different sports - swimming, cycling and running.
George Peasgood will be the youngest paratriathlete representing Great Britain at the Games.
The 20-year-old took up the sport after he suffered a serious injury to his left leg and ankle when he was a child.
Peasgood told Newsround that he hopes to inspire people to 'go out and do anything that they want to do'.