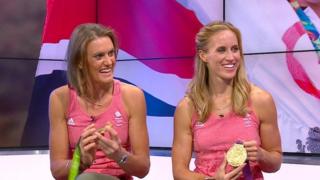 Team GB rowers 'need to decide' on Tokyo 2020
Team GB rowers Heather Stanning and Helen Glover won gold at this summer's Olympics in the women's pairs.
They came into the Newsround studio to talk to Leah and said they're still trying to decide whether to compete in the 2020 Olympic Games in Tokyo.
Helen even had to bring in her gold medal from London 2012 because her fiance, Steve Backshall, dropped her medal and it was away being repaired.
Watching a clip of Backshall crying after they won gold in Rio, Glover said: "You see how much it means to all our friends and family and it's no wonder people get emotional because they've seen how much we've tried and trained and we've put everything into that race and I think for them it's such a huge relief."