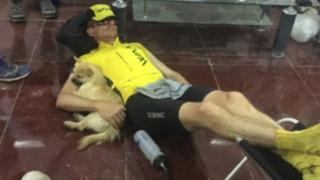 Lost and found: Gobi the Ultra Marathon Dog
Marathon runner Dion Leonard has been reunited with the dog who followed him all the way on a 250km ultra marathon run across China's Gobi desert.
Dion was taking part in the race when the stray dog started following him, and was amazed that he managed to keep up the whole way.
He named her Gobi, and the pair became inseparable, running together in the day, and resting at night.
But when Gobi was waiting to be allowed to travel to the UK with her new mate, she suddenly went missing, and Dion started a big search to find her.