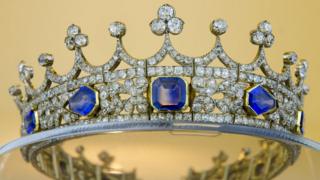 A sapphire and diamond crown belonging to Queen Victoria cannot be sold to a buyer in a different country - for now.
It was designed by Prince Albert for his wedding to Queen Victoria in 1840.
Eventually it could be brought by an international buyer and exported unless a UK buyer matches the £5 million price tag.
But experts say it's one of the most important jewels of Queen Victoria's reign and want it to remain in the UK.
The diamond crown is 11.5 cm and has 11 sapphires, which are all set in gold.