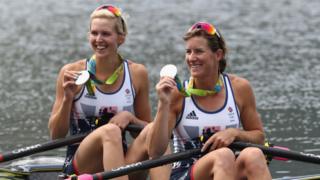 Getty Images
Rowers Victoria Thornley and Katherine Grainger won Olympic silver in the women's double sculls event in Rio.
Katherine is one of Britain's most experienced Olympians - she's been to Sydney, Athens, Beijing, London and Rio, and has won a medal at every one.
She was even GB's most decorated female Olympian after taking her silver... until Laura Trott stole the record days later!
The pair passed the finish line just 0.95 seconds after the Polish team who took gold.
And Victoria and Katherine will stopping by Newsround on Monday - so send us your questions to put to them!

Thanks for your questions - this page is now closed.