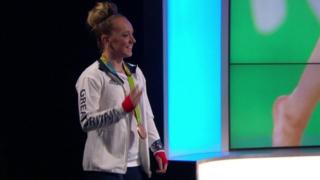 Amy Tinkler surprises fan on Newsround
Amy Tinkler inspired people across the UK when she took third place with a phenomenal gymnastics routine at Rio.
At 16, she was Team GB's youngest Olympian to go to Rio, and is the first British woman ever to win an Olympic medal in the gymnastics floor exercise.
She took time out of her busy schedule to stop by the Newsround studio, to meet one of the young gymnasts who've been inspired by her performance.