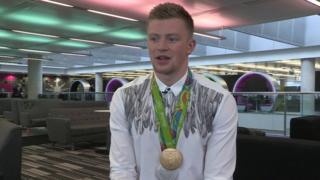 Peaty: 'Nothing more powerful than inspiring kids'
Adam Peaty stormed his way to a gold medal in the 100m breaststroke.
His win was the first British male Olympic swimming gold since Adrian Moorhouse secured one way back in 1988.
He has received praise from athletes from many different countries, not just his own.
We caught up with him to have a chat about his win and to put some of your questions to him.
Take a look at the video.