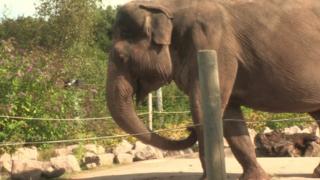 Search for Kate the elephant's keeper
Kate the elephant was one of the first animals to come to Blackpool Zoo, more than 40 years ago. Now staff are trying to track down the man who brought her here.
The man, called Dennis, brought Kate and another elephant, called Crumple, 8,500 miles over the ocean from India on a journey that took a month.
The zoo recently found out about their incredible journey when they found the ship's log, hidden in a cupboard.
Now they want to know more, so they're trying to track Dennis down.
Naz went to Blackpool to meet Kate.