Getty Images
A massive earthquake has struck central Italy.
The quake hit early on Wednesday morning, devastating several towns and villages around 65 miles from Italy's capital, Rome.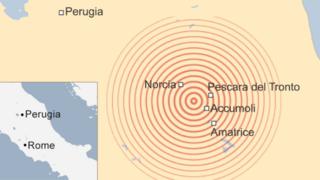 At least 38 people have lost their lives and more than 150 are still missing.
Rescuers have been working constantly since the quake struck to reach people trapped, some even digging with their hands.
Two boys aged four and seven were among those pulled from the rubble and taken to safety.
The President of France, Francois Hollande has been one of the world leaders to offer "All help that might be necessary."
Earthquake expert Andrea Tertulliani said further smaller shocks could follow but that "it can't be ruled out that there could be another shock on the same scale as the main one."