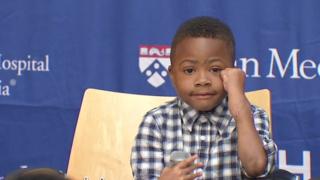 Nine-year-old shows off hand transplants
Nine-year-old Zion Harvey made history when he became the world's youngest double hand transplant patient last year.
He lost his hands and his feet to a serious infection several years ago.
He has prosthetic legs to help him walk, as well as the hand transplants.
It's taken him longer to get used to his transplanted hands - but now all he wants to do is play American football!
Check out Zion showing off his new hands.