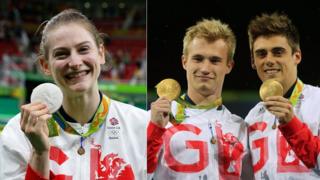 PA
Great Britain's great athletes have now arrived back in the country - and everyone wants to speak to them!
On Wednesday, Newsround will be lucky enough to chat to Jack Laugher and Chris Mears, who won gold in the 3m synchronised diving, as well as a silver individual medal for Jack.
We'll also be speaking with Bryony Page, who impressed judges to win a silver in the trampolining.
And we need your questions for them!

Thanks for your questions - this page is now closed.