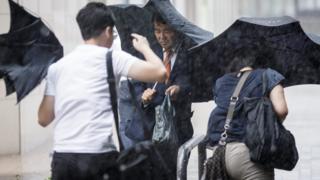 EPA
A typhoon bringing heavy rain and winds of up to 112 mph has hit Japan's capital, Tokyo.
Reports from the city say at least one person has died and 29 have been injured in the storm.
The storm hit the Japanese coast around 12.30pm local time (4.30am GMT) around 50 miles from the capital, Tokyo.
Japanese officials have warned people in Tokyo to watch out for ''landslides, flooding in low-lying areas, violent winds and high waves''
Typhoon Mindulle has caused big problems for people wanting to travel.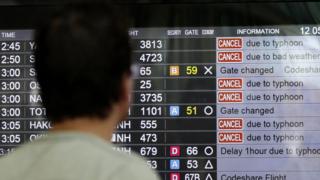 EPA
400 flights have been cancelled so far, Japan Airlines alone cancelled over 180 of their domestic flights.
Even though it has caused problems, Mindulle only ranks one on the scale used to rank the strength of storms called the Saffir-Simpson hurricane scale.
Two other storms were expected to hit Japan hard, including another Typhoon called Lionrock, but these have since lost power and are not expected to cause big problems.
Japan is no stranger to typhoons and Mindulle is the ninth one in this typhoon season alone.