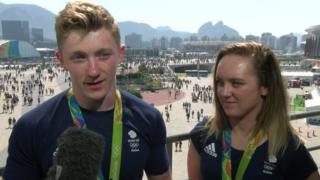 Being clumsy got Nile Wilson into gymnastics
Team GB bronze medallist Nile Wilson says he got into gymnastics because he was clumsy as a child!
"I'd actually fall over my own shadow - plenty of scars on my head," the 20-year-old told Newsround.
"So my parents took me along just to teach me how to fall and teach me some spatial awareness. And then [I] just picked it up and loved it ever since."
Nile is the first British person to win an Olympic high bar medal.
Sixteen-year-old Amy Tinkler is Team GB's youngest Olympian in Rio. She won bronze in the women's floor event - she's also the first Brit to do so.
"When I was on the podium I didn't have a clue what to do," she laughed.
"Simone and Aly were just like, 'Just follow us, we'll show you what to do.'"
Watch Nile and Amy's interview with Ricky.