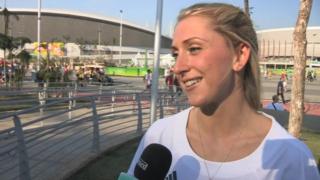 Trott: It feels weird to have four golds
Team GB's most successful female Olympian ever, cyclist Laura Trott, says it feels "weird" to have four gold medals.
"I still feel like that little girl that rode her bike just because she enjoyed it. That still feels like me," she told Newsround.
"If I can inspire that next generation to get out and ride a bike then that's exactly what I want to do."
Team GB's cyclists have dominated at Rio 2016, with every single member of the track team taking a medal.
They've made history, smashing world records for speed, and GB records for numbers of medals won by individuals.
Now that the hard work is finally over, GB's cycling stars have finally got time to relax - and chat to Newsround's Ricky of course!