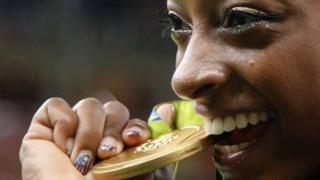 Simone Biles on pressure to win golds
US gymnast Simone Biles has gone from star to superstar at the Rio Olympics, winning four gold medals and a bronze.
The 19-year-old was too young to qualify for London 2012, but has been one of the most talked-about athletes of Rio 2016.
"It feels good," she told Newsround after winning her fourth medal - a bronze in the beam event.
"I think it's just another meet for us. Because we've trained so hard we try not to think of it as the Olympics but it's very nice."
There had been hopes that Simone would get five golds in Rio.
"I think everyone sees the potential in me so they hope that that's the result in the end. But I think bronze is still pretty good."
Watch Ricky's report on Simone and what makes her so incredible.