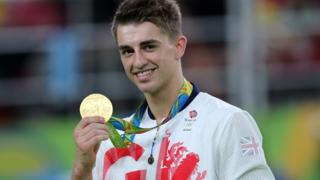 Max Whitlock: 'I'm speechless'
Day nine of the Rio Olympics was truly a Super Sunday for Max Whitlock, as he grabbed two gold medals in the space of just a few hours.
The Team GB gymnast won his first gold of the day on the floor and then followed it up with a second on the pommel horse, beating fellow team-mate Louis Smith in the process.
Speaking to Newsround's Ricky after his amazing feat, Max said: "I'm literally speechless...you only get a minute to show what you can do on each piece and it just feels incredible."
Watch the rest of Ricky's interview with Olympic champ Max Whitlock.