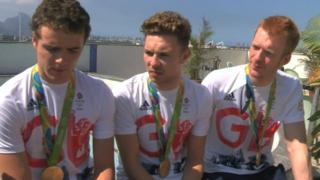 'Anything but gold is a disappointment'
The British men's team pursuit cyclists say they're hoping their golden success at Rio will mean "a little bit of inspiration will spread back home".
Ed Clancy told Newsround: "When a kid comes up to you and tells you that you're the reason they've got into cycling, that's gold that is."
Steven Burke, Owain Doull and Ed, along with Sir Bradley Wiggins, set a new world record in Friday's final, completing 4km in three minutes 50.265 seconds.
Owain Doull said: "What everyone's here for is gold and anything but that is going to be a disappointment."
He said that his first inspiration to become a professional cyclist came from watching now-teammate Ed Clancy winning gold in Beijing eight years ago.
Watch their full interview here.