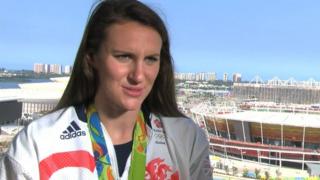 How Jazz Carlin celebrated her silvers
Jazz Carlin is now one of Wales's most successful swimmers ever, after bagging two silver medals in her first Olympic Games.
She celebrated in style - by treating herself to pizza and ice cream!
"I've been trying to be quite good with my diet before I race, but the first thing I wanted was pizza and then followed that up with ice cream," laughed Jazz.
The swimmer's success in Rio came in the 800m and 400m freestyle.
She told Newsround that she's dreamed of being at the Olympics since she was young.