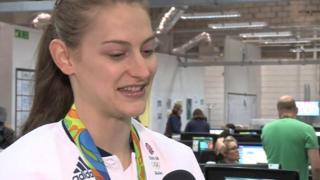 GB's first female trampoline medallist
Team GB silver medallist Bryony Page says she hopes more kids will be inspired to take up trampolining after her success in Rio.
She has become Britain's first woman ever to win a trampolining medal at the Olympics.
Bryony took silver place on Friday with a score of score of 56.040, just behind Canada's Rosie MacLennan.
The 25-year-old said that she hadn't expected to win a medal at all, but her performance in the final had been the best she'd done all year.
Now she wants more kids to get involved in the sport, and says that it's about a lot more than just winning medals.
Watch Ricky's interview with her.