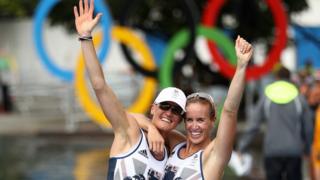 Allsport/ getty images
Great Britain rowers Helen Glover and Heather Stanning have defended their Olympic gold by winning the women's pair at Rio 2016.
The led from the start and finished 1.2 seconds clear of New Zealand with a time of 7:18.29 seconds.
"The pressure was immense," said Glover.
"London was a home games and there was nothing more special but this is defending a title - it means so much."
Shortly after Helen and Heather's triumph, the men's four team won another gold medal.
Mohammed Sbihi, George Nash, Constantine Louloudis and London 2012 winner Alex Gregory finished in five minutes 58.61 seconds.