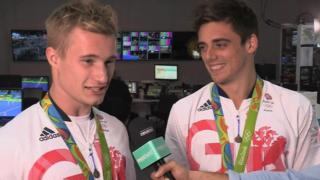 'We were ready to settle for silver'
Team GB divers Jack Laugher and Chris Mears say it's "unbelievable" to be Olympic champions.
The pair won Great Britain's first ever Olympic diving gold on Wednesday night, in the men's synchronised 3m springboard event.
Jack admits he was ready to settle for silver as they waited for their Chinese rivals to do their final dive.
"We went out there very cool, calm and collected and we came out on top today. It's amazing," Chris told Newsround.
What makes it even more unbelievable is that Chris was given a 5% chance of survival after he ruptured his spleen in 2009 and needed surgery.
Watch Jack and Chris speaking to Ricky after their historic win.